| | |
| --- | --- |
| Information for Members (updated 14-Dec-2015) | |
CEU = Continuing Education Unit (EMS)
FCE = Continuing Education Units for Fire Fighters (see 'Note' below)
If you can not make a training session, you are required to notify the Chief or your Company Officer.
• 1st unexcused absence = verbal warning
• 2nd unexcused absence = written warning
• 3rd unexcused absence = dismissal
EMS Online Scheduling

Online Scheduling
As of August 2009, MTFR will be utilising an online scheduling system to help streamline and speed up the process of scheduling all EMT's. As an MTFR EMT, whether Volunteer, Part Time or Full Time, you can now log on to EMS Manager™ to maintain your profile, submit your availability, view your schedule, as well as several other services.

To log in:

Log in using your first initial, last name (e.g.. jsmith)

Enter your password.
(If you don't know your password click the 'Forgot your password?' link. A new one will be emailed to you that you can change later in your profile.)

For you part-time lot, this will also be your password for the Time Clock feature.

*Note: To go directly to the EMS Manager web site, click the EMS Manager logo above.
MTFR on Facebook - come and join us

MTFR is now on Facebook. This Facebook page is run by and for it's members to freely exchange information, photos, videos, ideas, etc. Membership is not restricted.

Find us at www.facebook.com/MTFR800

It is not an official site of Miami Township Fire-Rescue and the views and opinions expressed by it's Fans does not necessarily represent the views of the Department or the Township.

Please keep the page rated G.

Have fun!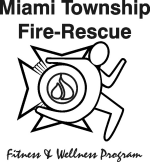 It is our belief that in order to fulfill our mission and core values, our firefighters and EMT's must be in top shape, physically and emotionally. Our Wellness & Fitness Program has been established so that our members can reach and maintain a level of fitness that allows them to safely perform their assigned functions and to reduce the probability and severity of occupational injuries and illnesses.
Our program consists of activities within five program areas.

Read the latest fitness info: Workout Mistakes.
The program areas are:
Physical fitness. This includes initial and annual fitness assessments, as well as individualized fitness programming.

Medical fitness and nutrition. All members undergo an initial physician administered physical as well as regular medical assessments.

Emotional health. Through the provision of a contracted employee assistance program, our in-house chaplain program, and the appropriate use of critical incident stress management, we seek to address and reduce emotional and behavioral health issues.

Family services. The involvement of family members in our organization has important benefits. Additionally, employee assistance services are available free of charge to family members.

Injury prevention and rehabilitation. The rehabilitation of our members following injury must be a priority. Rehabilitation should include multi-site physical therapy and rehabilitation services through a provider that has extensive background with fire departments.
All members are encouraged to work out regularly. The services of certified personal trainers are available to all members at no charge. Repeatedly, research has shown the need for high levels of aerobic fitness, muscular endurance, and muscular strength to perform safely and effectively in the fire service. Physical fitness is critical to maintaining the wellness of our members.
The Fitness Assessment (conducted around May-June) consists of the following:
Timed treadmill test (assesses aerobic capacity and endurance)
- Firefighter: Bruce Protocol treadmill test
- EMT only: Balke Protocol treadmill test
YMCA Bench Press test (assesses muscular strength)
Half Sit Up test (assesses muscular endurance)
Hip to Waist Ratio (body composition)
Sit & Reach test (assesses flexibility)
The Kombat Challenge consists of the following, performed in sequence:
Charged hose-line drag (75')

Stair climb with 2˝" hi-rise pack

Tool carry (150')

Dummy drag (185lb dummy, 150')
All of the above are done in full gear with SCBA. Participants must complete the Kombat Challenge within the time allotted.
---
Target Heart Rate Zones

Click here to download/view the Target Heart Rate Zones document to help you manage your fitness training.
"I am proud to present to everyone the MTFR Strategic Plan Year 1 Scorecard. This document, here in PDF format, charts the current status of our plan's implementation. If you're not familiar with the MTFR Strategic Plan, it can be viewed and/or downloaded below. We are now embarking on the second year of the ten year plan, the first to be fully funded (due to last spring's supplemental levy); you'll be seeing improvements and changes throughout the year. Additionally, I'll be seeking member involvement on several of the initiatives outlined within the plan." - Colin Altman, Chief - Feb 5, 2007
Click on the links below to download PDF files of the MTFR Strategic Plan.